Updates on 2018-10-01
01 October 2018
My 4th weekly update entry. One day late this time. Maybe two by the time I've finished writing.
Lots on social.coop infrastructure, hosting my parents, …
What I did last week
I met (other) Nick a couple of weeks ago in relation to social.coop, but he's also been organising a p2p meetup in Edinburgh. I was having a pissed off morning, hated the shops, the houses, the economy, everything. So I went over to Edinburgh early, was thinking maybe to do a bit of the social.coop server stuff with Nick, but ended up chatting with him and Simon Grant at the Edinburgh hacklab for a while, before heading over to the Shrub for the meetup.
I didn't really know what I was attending, seemed a bit vague. It's the early stages, and mostly about getting some nice people interested in p2p and commons in a room, then see where it goes. That succeeded very nicely.
We chatted about all sorts of topics, and I was glad it wasn't super focused on p2p tech stacks - blockchain was mentioned, I nipped to the toilet, and I think it was over by the time I came back, phew!
We talked quite a lot about co-operatives. I added team human to my podcast app. I met Tao who contributes to Wobbly. Also met up with my friend James who works at Open Data Services co-op.
I would join again, if I can also find some other stuff to do in that day. Which seems quite likely.
It did wonders for my mood overall. I came back feeling motivated and inspired!
Worked on social.coop infrastructure
We had potentially impending metldown as we were due to be booted off the servers by the end of the month and the cloud object storage was also due to shutdown!
We'll it's still online now! We managed to negotiate an extension for the server itself and we think we have saved the useful assets.
Other Nick, Victor, and me tried various approaches to save transfer the assets and ran into various niggly issues. By the end we realised that only a very small number of them really matter - with most of the rest being locally cached versions of remote resources that can be refreshed.
The remote resource cache should automatically be cleaned up periodically, but that has not been working for some time so they have built up, and it makes the operations very slow.
It's been a good crash course in how mastodon works :) I feel much more comfortable for the future now we have a bit of a deeper understanding.
Hopefully this can represent the bottom of the curve and the project can take an upwards turn from here?
Volunteered at KPCafe + attended film night
I went to volunteer at KPCafe again after missing last week. I felt a bit useless for a while as they had put the tables out already when I arrived and I wished I had bought my laptop, but it didn't take long and I was having some engaging conversations with some visitors about controlling men, collecting stuff late at night from the streets, and dancing. A nice Iranian guy runs a "bike kitchen" type project in the outside area, and had a nice chat with him about bikes, dumpster diving, bike saving, etc…
After the food there was a film event as part of Scalarama - which is named after a building in London where I used to go when I was at uni (although well after the cool film part of it's history). It's DIY film festival that shows a range of films from niche to mainstream films in a range of venues (including peoples living rooms!).
This film was about B-movies in aparthied-era South Africa (Images of Apartheid). I didn't really know much about any of that, and probably would have not attended were it not happening in front of me. I enjoyed seeing the people in the room slowly change from the KPCafe people to the film festival people (bit by bit getting more stylish I thought - someone thought I was maybe being judgemental though).
There seemed to be two interests - cult film / B-movie type stuff, and the historical perspective. The cinemas were segreated during apartheid and had totally seperate cultures. The government provided subsidies to encourage the films to be made in the way that suited them. They were also the first (? or at least very early) films to have all-black cast, however the behind-the-camera people were white. They were supposed to be entertaining and not stimulate a revolution against apartheid. Makes me think of much of modern cinema now.
Went to book launch thing
I joined Taïs to see a book launch talk thing about Capitalism without Capital with the authors Jonathan Haskel and Stian Westlake.
What I love about seeing book talks is that within about an hour I feel I've got to the bottom of what it is all about without having to plough through pages of filler.
inequality has also risen and is a big problem
the economy is increasingly focused on intangible things (brand, digital, etc)
the trend is clear over the last 40 years
it congregates in a few big cities/areas
I asked Stian Westlake at the end what this trend suggests about how to solve inequality. Basically not much. I wondered if it could be wise to not focus on intangibles if it seems associated with increasing inequality. He said we can't go back (like Trump and other nationalists want us to). He said the other path could be degrowth (hoohohoho not seriously though…). I talked to Jonathan Haskel for a bit afterwards about co-operatives.
I remained utterly unconvinced they have any interesting thoughts for how to improve our society. Seemed more about how people should hop onto the unstoppable bandwagon of growth and the weird things that we do now for work.
The whole thing gave me a strong sense of how the established structures/ideas perpetuate themselves and the quote:
It is difficult to get a man to understand something, when his salary depends upon his not understanding it! Upton Sinclair
Parents visit
My parents arrived on Friday, we've had a busy schedule so far!
a day trip to the Isle of Arran, walking with Taïs, eating, driving around, etc. lovely weather!
a visit to the slightly overwhelming riverside museum, lots of old transport vehicles, great trams and buses
1.5h on an open top bus seeing quite a lot of Glasgow I haven't seen yet
After spending quite a while this morning trying to work how to get around the city with my parents to see some things (car? parking? buses? subway? - unfortunately walking/cycling is not possible any more for them) I suddenly realised I could do what everyone else seems to - Uber!
It hadn't even occured to me to do that. Just not part of my brain. I was amazed how easy it was though, the app is super slick, click, click, swipe, click, tap, whoosh, 1 minute until the car arrives, then just £3.60 for the journey. I can see why it's popular.
I hate that it works so well. Which sounds stupid, but I realise it works so well for the consumer, but not for everyone else - the precarious underpaid and disempowered worker, their family not seeing them during the long working hours, the environment suffering from the pollution, the humans suffering from the pollution, the massive roads everywhere making it difficult to walk/cycle to keep fit, the people who can't afford £3.60 or who don't/can't use a smartphone, the alternative services who can't compete with a VC-pumped market-suffocating aggressive startup.
But today, there were no other options. Having a nice time with my parents is more important than all that today.
Besides, spending 10 minutes looking for a parking space is not going to bring down Uber - or create a co-operative decentalized open source replacement.
Anyhow, it's lovely spending some time with them in Glasgow :)
foodsharing.de / karrot / code
I got a reasonably working websocket chat going, and helped a potentially new contributor, Alex, get the environment up and working.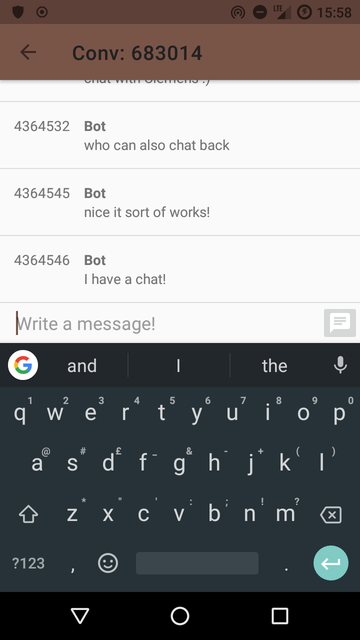 Websocket Chat
My DI unification MR got merged - which promptly broke beta, oops! And we merged the post-festival new landing page, only to beta for now, a few tweaks needed. I chatted to some more potential new contributors too.
I added a few more thoughts about generalization / bike kitchen uses of karrot on the forum and some more technical thoughts on the github issue.
Random other things
Strath Foodsharing has 11 registered users now!
got email from Thomas at Glasgow Uni GUEST interested in karrot for their group
emailed Louise at media co-op in Glasgow and we chatted about organising a Scotland Co-tech event
went out hunting for food for a few hours with very little success :/
made nice fried things with the aduki beans and served them up to Dan who came round to discuss debt with Taïs for the upcoming WTF is Neoliberalism session
I started a channel about a kanthaus-like project in the UK (in yunity slack) - not much bite :/ … yet
joined wobbly discord chat and had a nose around, plan to have a chat with the main guy, I like quite a lot of his convocational development thinking
following a fediverse thread, I investigated a little what happened to the cotech cobudget idea - seems to have fallen between the cracks a little, maybe can be kicked into life again?
missed DiEM25 Glasgow meetup
a cat moved in! (he's old and grumpy)
I managed to mostly keep my phone on the other side of the room when in bed - was happy with that!
we found a nice table in the street
Things that went not so well
I still haven't worked on Public locations for food distribution - and I still want to, it's quite important. I'm finding it hard to allocate longer periods of focussed time, that are needed for things like this.
I also haven't planned my little UK tour any more yet. I would theoretically be starting it later this week. I have some mental block for planning usually, I usually wait until a sudden burst of inspiration happens.
What I want to do next week?
plan a bit more of my little UK trip
possibly leave on said trip
fix a few foodsharing.de things (especially broken beta)
possibly nudge forward the persistent sessions topic (so it can allow the android app to run on the real backend)
progress Public locations for food distribution … ahem
visit New Lanark - and early industrial co-operative pioneering mill
order some bike lights with/for Taïs