Updates on 2018-10-15
15 October 2018
My 6th weekly update entry. Trip begins!
What I did last week
Leave on trip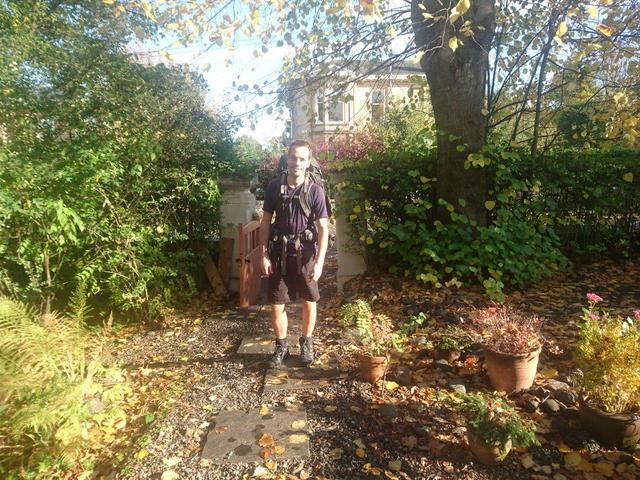 Leaving house
I finally managed to plan my little UK co-op-y trip. Well, I didn't so much plan it but just announce it on the CoTech forum and on mastodon and it sort of planned itself.
I've got a list of places to visit Talamh Housing Co-op, Newcastle, Lancaster, Blackpool, Leeds, Sheffield, Birmingham, Oxford, London, Bath, Bristol, Glastonbury. Then back up to Glasgow. Something like that. And it's not really about visiting those places, but specific people/co-ops at/near those places.
My transport mechanism is hitchhiking. So far I've made it to (near) Lancaster, and everything working well. My two rides yesterday involved a total of 2 minutes of waiting for rides (and a local bus to a good spot, and some walking). I think I've only ever seen 1 person hitchhiking in the UK that wasn't me or my girlfriend. But it seems to work fine.
I generally wonder what the point of this trip is. I'm not too concerned about having a Big Point for doing it, just letting it unfold. The co-operative movement is certainly diverse though, and so it should be - it's not about prescribing your entire way of life, but a way to organise a group of people doing something together. It's not very specific about how you do that either.
So far I've been to Talamh, Newcastle (to visit John from Wobbly), and Simon Grant near Lancaster. Tomorrow (probably) to the EA Hotel in Blackpool.
social.coop
We completed the migration to the new object storage and to the new server! Yay! That was our looming task.
It went pretty smoothly in the end, and we're on the way to getting a hold of the tech layer of social.coop. An ansible project has begun, and updated tech infrastruture docs. We've done 11/15 of the things on my Finalize new setup list.
Hopefully the social infrastructure part picks up some energy too. Maybe it has and I just haven't noticed.
karrot / foodsharing / code / etc
Quite quiet on this front. Mostly due to being on trip I guess (it's a very unproductive thing to do in many ways).
There was a bit more discussion about the karrot co-op idea.
Bits and bobs
had a couple of friends to visit in Glasgow, ate some dumplings :)
write CoTech forum post about CoTech CoBudget (no replies)
added some ideas for the Karrot 35c3 talk
added support for optional persistent cookies (so can run android app against real site)
Things that went not so well
I still (x3) haven't worked on Public locations for food distribution.
What I want to do next week?