This used to appear on ontheroad.nicksellen.co.uk which was all about a bike tour I made around the UK in 2011/2012.
Inspirations for the trip
24 April 2011
My holidays tend towards self-powered long distance journeys by bike or foot. Each trip taught something new about what I like – the inspiration for this trip is a combination of all my previous trips and thoughts I've had for improvements:
I like talking to people en-route so English speaking countries are preferable
I don't like having a sole purpose of covering distance
wild camping is good for finding special locations – campsites are too often sanitised (and can be expensive given the small amount of time and space I use)
I'd rather feel a trip is more of a [temporary] lifestyle than a holiday
Given these points I've come up with following ideas:
stay entirely within Britain
have no fixed destination or timescale
take 'extra' things for something to do other than cover distance (laptop, camera, audio recorder)
visit people or places along the way of interest (friends, communities, 'sights')
Heres a few details of my previous trips…
USA East Coast by Bike
Aged 19 I did my first long distance solo bike ride – 1200 miles from Miami to the top of North Carolina over about 3 weeks. This was a hot and fast ride covering 80/100 miles a day in searing heat (I rode right through the midday sun each day – most other people would be taking it easy in a shady place). It gave me my first great feeling of independence and I met a lot of lovely people along the way.
Occasionally campsites that were mentioned on the map no longer existed and this led to some interactions I'll never forget – one campsite had been turned into a trailer park (static caravans basically) but American hospitality kicked in and I stayed with "truck driver Ron" who let me camp on his plot and we drank beer together and chatted about life etc… he took me sea fishing the next day (I learnt I have no interest in fishing). Nothing dramatic about this interaction or most of my others but it gave me a real appreciation for the kindness of American people.
I hadn't actually planned the trip at all when I left headed for America so it's thanks to my brother Paul that I had any gear at all. I did the trip on a heavily laden racing bike (with 18mm tires!) with a rack held on with cable ties – it was like riding a jelly. I got a lot of punctures and got pretty quick and mending them.
Good: taste of freedom, American hospitality
Bad: totally flat, too hot, not many other 'people like me'
Long Trail in Vermont by Foot
A 12 day walk through the pretty green mountains in Vermont (North East USA) – there were no shops to visit for the entire trip so I had to take all my food for the journey with me. My pack was enormously heavy and the first 5 miles involved 1 mile of height gain and a lot of pain. By the end though I was bouncing down the rocks as I had super-minimal gear: my clothing was 1 pair of trousers, 1 top, 1 fleece, 1 coat, 1 pair of socks, 1 pair of boots (and no underwear).
Good: wilderness feeling – very few signs of civilisation, stunning views from the peaks
Bad: the forest gets repetitive quite quickly, very linear progress (no route planning)
London to Budapest by Bike
Between my first and second years at university I cycled 2200 miles across Europe through France, Italy, Croatia, Bosnia & Herzegovina, and Hungary. This was a fast trip covering 70/110 miles per day with accommodation divided between campsites, youth hostels (or other rooms), and wild camping.
I used a 1960's Claud Butler that my Dad bought in the 70's for £5 or so. As with the USA East Coast ride the rack was held on with cable ties and quite wobbly – the bike shop I was in before I left actually laughed at me before I left thinking I would never make it on that bike.
Taking shelter during a rainstorm (shows bike nicely)
Out on the open road in France
Looking out over Budapest at the end of the trip
Good: wide range of terrain and some beautiful scenery
Bad: language barrier prevents effective communication frequently
Reading to St Austell by Foot
A 280 mile walk from Reading to St Austell in Cornwall. I took a bivy and slept under the stars every night – I had only two nights of rain for the whole trip.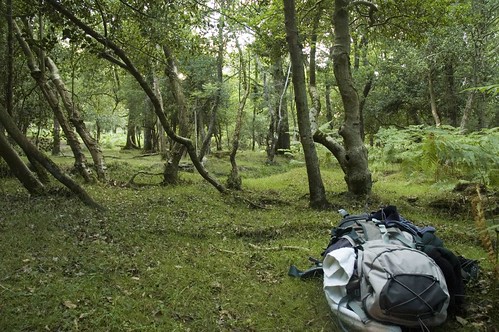 A nights sleep in the New Forest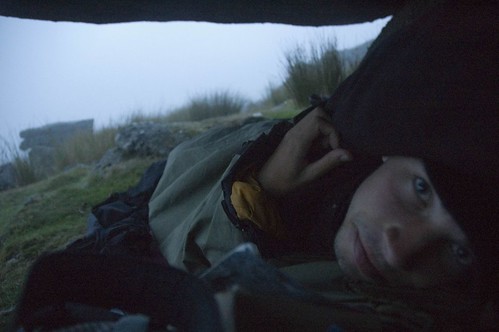 A night under a rock in the middle of Dartmoor on one of the few rainy nights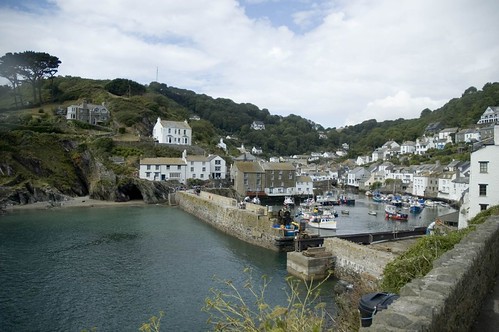 Pretty Polperro in Cornwall
Good: a great look at the country, some beautiful places to sleep
Bad: walking is very tiring (no coasting down hills) and straining (blisters and sore feet & legs)