This used to appear on ontheroad.nicksellen.co.uk which was all about a bike tour I made around the UK in 2011/2012.
Gear
I've been resistant to write any kind of gear lists as it's not the focus of the trip and I'm not keen on encouraging people to be rampant consumers. However, I have recently enjoyed looking at some other peoples gear lists so it's only fair I contribute back.
I'm only including a few of the core items rather than an exhaustive list.
Bike
The main part. It's a Thorn Nomad Mk2 with S&S couplings from Bridgwater in the west country of England.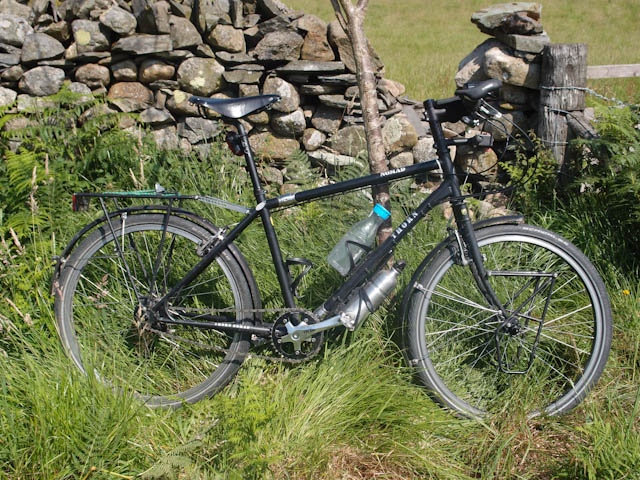 This is a tough steel bike and it's held up wonderfully, I've taken it on some very demanding rough tracks and have had no issues whatsoever. It's a joy.
I have the 14-speed Rohloff hub gears which, like the bike, have just done their job solidly and enjoyably without issue.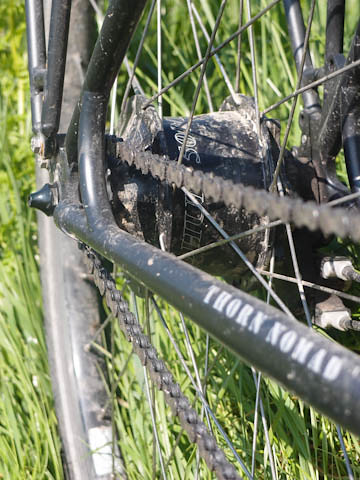 The S&S couplings let me split the bike into two for transportation. This isn't something I'm intending on using much.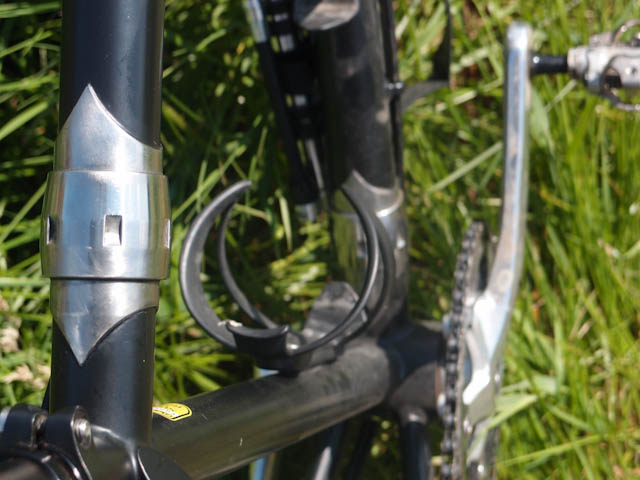 Trailer
I have a Carry Freedom Y-Frame large from Ayshire in Scotland.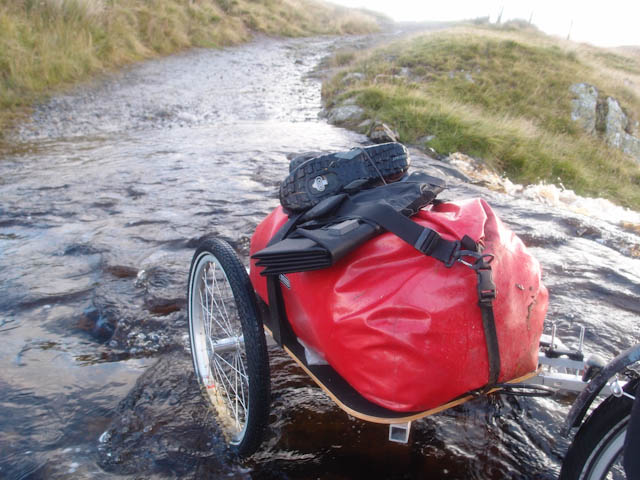 This is a great trailer which will carry up to 90kg of luggage (which I am not intending on this trip). Unfortunately I had some issues with the original hitch which I had replace with a much better design.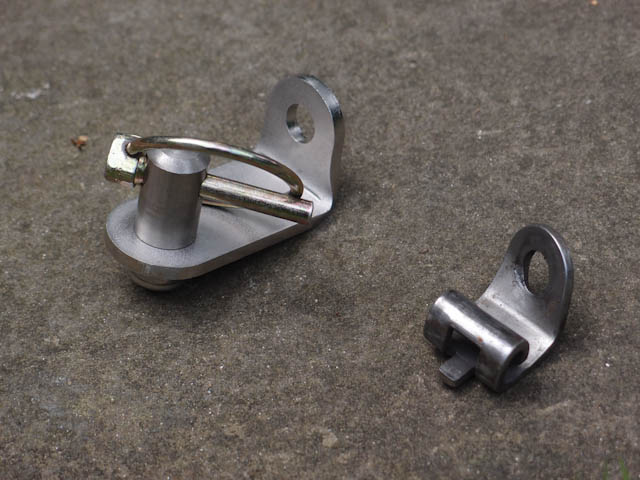 new hitch on the left, much beefier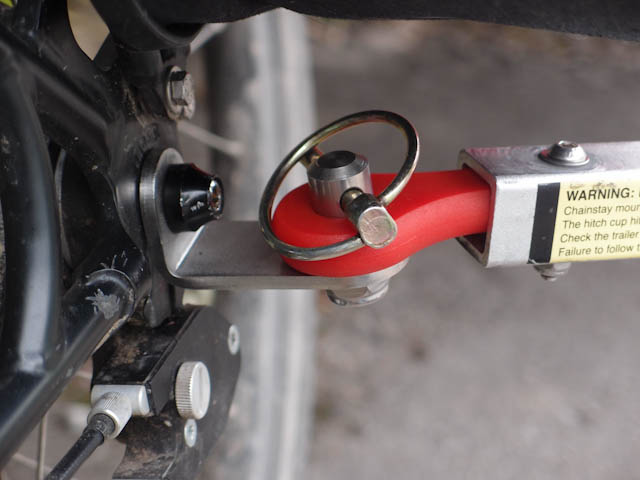 with trailer attached, the red stuff is super strong and has coped with full rotations without damage
Camping gear
I started with a bivy and tarp setup (a "millet" bivy – a french company, not the high street "millets" shop, and a Integral Designs Siltarp 2) but have since got a tent (Hilleberg Nallo GT 2) as the conditions have got more severe.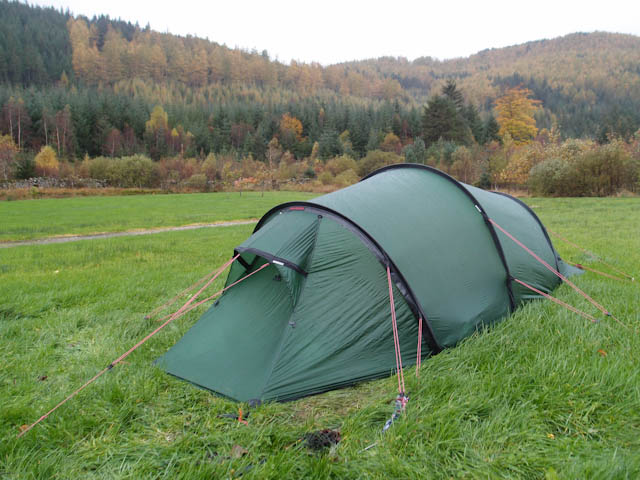 My sleeping bag is a PHD Minim 400 with the optional Drishell outer material.
Solar setup
I spent quite a while looking at all the various ways of keeping everything charged on the road – I wanted something that I can keep my laptop charged and work for a significant amount of time on in remote conditions.
I settled for a 62 watt flexible solar panel, most of the ones I found on UK sites sold for around £1200 but I found one on a french site for £800 (the french site no longer sells it but it's this panel).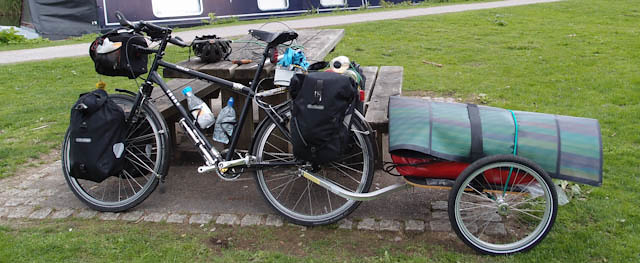 I can have most of it visible when cycling by strapping it to the trailer
To store the charge I need a battery. I look at a lot of reviews and there are loads of products on the market designed for outdoorsy use with variable voltage outputs and USB sockets.
I decided on two 14Ah Deben Tracer lithium-polymer battery packs as they have a much better weight/cost/capacity ratios than any of the others I looked at. They don't have any fancy features, just 12v in and 12v out.
This requires another device to take the output of the solar panel and regulate it in order to charge the battery. I initially tried a solar charge controller designed for a lead-acid battery but it didn't work with my lithium packs. The solution was a Genasun GV-5, which has the added benefit of MPPT technology which improves the charging efficiency.
Along with a watts-up meter to show incoming voltage and accumulating charge I mounted them inside a box (with my friend Stefans help) with 2 12v cigar sockets for connecting to the batteries (and one for a device).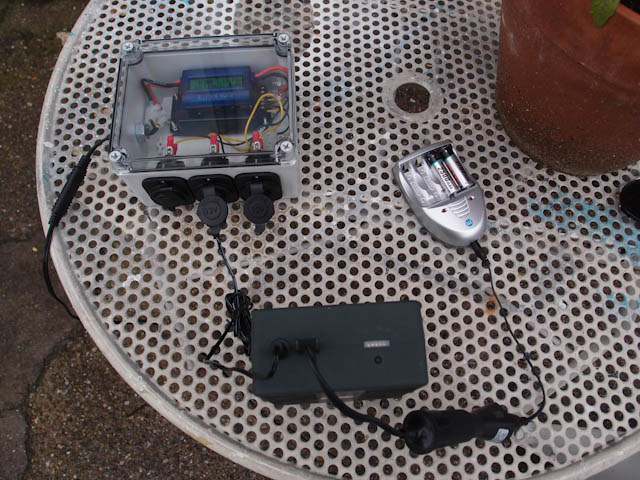 the finished product charging some batteries
Computer
I have a 13″ Macbook Air with 250GB SSD and an external 2.5″ 1TB HD for backups and extra storage.