This used to appear on ontheroad.nicksellen.co.uk which was all about a bike tour I made around the UK in 2011/2012.
Winter is coming
20 October 2011
The tarp has been a great way to camp (see my earlier post about the tarp) – it's so small, light, discreet, and gives a wonderful sense of being really in the outdoors.
However it has some limits and this trip is not supposed to be a macho endurance test to show how tough I am – days on end of rain and frequently heavy winds are more than a tarp can really be asked to handle. I've adapted my tarp setup to be as enclosed as possible and I've kept warm and dry in some pretty windy and rainy nights but I don't want too many more times like this (this isn't the worst of it):
The time has come to upgrade to something more substantial: a tent
Staring at tents on the internet is something I've been doing for a while and Hilleberg have consistently been well reviewed. Their main tent design is the tunnel tent of which they have a bewildering array (4 separate ranges of tunnel tent, each with normal or extended vestibule version, and each in a number of different sizes). I spent about a week dithering, reading reviews online, comparing with a few competitors (Terra Nova make some great tents too).
I wanted a two person tent so I'd have enough room for lounging about on rainy wintery days and also have the possibility of accommodating an extra person if required. I was quickly taken with the 'GT' (extended vestibule) models that Hilleberg offer – I've got used to being able to keep most of my gear under cover as the tarp allows that (at least in fairer weather configurations). From there the steps are quite logical – all the tunnel tents come in versions that either prioritise strength or lightweight-ness, as both are claimed as capable 4-season tents, the lightweight is more interesting to me. I'm not planning on high altitude mountain camping and I might want to carry it in a backpack at some point.
The answer was the Hilleberg Nallo 2 GT.
They say
The Nallo and Nallo GT are the ideal all-around, all-season, ultralight tents. In essence, the Nallo and its extended vestibule version, the Nallo GT, are the ultralight versions of the Nammatj and Nammatj GT. They excel in any situation where the lightest possible tent is needed, but where true all season strength and reliability might be required. Both tents' tunnel tent design and ultra light weight make them ideal for mobile adventures, where you move your tent every day.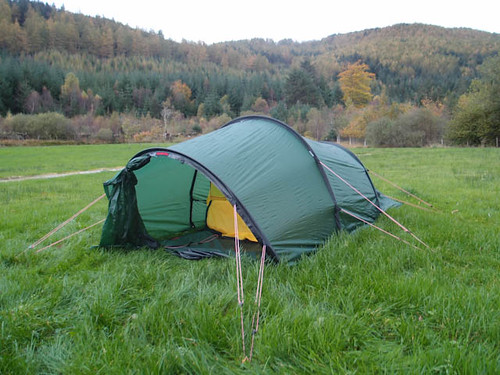 the front can be pushed aside making a lovely panoramic view if the weather permits
It's not cheap though at just over £700 including the optional foot-print (which is useful for reducing condensation as well as providing a more pleasant floor space inside the vestibule) but seeing as it's my house for now and it should last a long time it's ok.
I'm super happy with it so far having spent all day in the tent today using wifi from the campsite and it's great! Wind is howling outside and I'm warm and cosy inside ! :)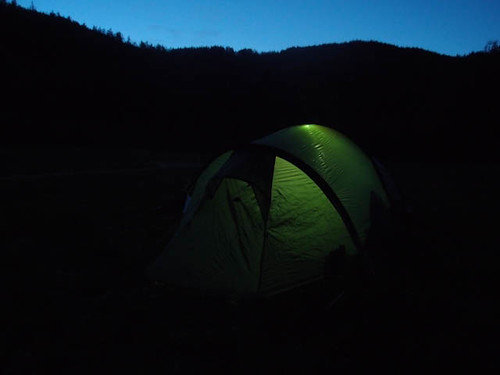 I got an LED lantern too so it's quite homely inside